A weather radio is the only medium that will work when power is out and keep you noted with weather alerts and news.
Stay noticed with NOAA weather radio. Furthermore, weather radios usually have backup power sources, which is a reliable medium to receive alerts.
Everything You Need To Know About Weather Radios
News is redirected to the radios as soon as it is sent from NOAA National Oceanic and Atmospheric Administration 24 hours a day the whole week.
Modern weather radios have technology that automatically turns on when a new alert comes.
Radio covers the standard AM and FM broadcast bands and weather radios in available and running countries.
Also, less common on the emergency radios is the basic shortwave radio coverage when local radio is unavailable.
What to consider when buying a weather radio
Purpose – decide what the purpose of the radio that you need is.
Decide whether your radio is indoor or outdoor, just for outdoor activity or for home or office like standard radio.
Notifications – some devices only offer emergency weather announcements, while others provide emergency and public statements.
Different radios provide different bands, so choosing the radio depending on your needs is essential.
Alerts – this feature allows the device to remain silent and go off when weather warnings are on the program.
Some radios allow you to set weather warnings on the specific county radio channel.
Some radios have an external port and additional antenna for better signal reception.
Features – audible alerts. Some high-end models have multiple tones.
Durability is paramount if you use the radio when power is out or use the radio for outdoor activity.
Power source – every weather radio is made to work on the batteries or the AC adapter.
Portable models work on the hand-cranked feature that is built into the radio. Power backup options are always a good idea.
Advanced functions – weather radios have extra features that make some of them stand out in outdoor or natural disaster moments.
Some have SOS signal batteries. Some have USB chargers for devices, easy access tuning options, and special alerts for body-disabled persons.
Cost and warranty – prices of weather radios vary from tens to hundreds of dollars.
The price depends on the features that you would like to have on the device.
ALERTS – RADIO – National Weather Service
Size and Weight- those factors significantly depend on where you want to use your weather radio.
If the radio is used, indoor size and Weight are not that important.
If you would like to use the radio outdoors, find a device that would be smaller and lighter in Weight.
Many weather radios are pocked size so you can take them with you.
There are two types of weather radio receivers home or stationary and portable.
Portable models commonly offer extra features that make them useful in emergency moments.
Some weather radios are hand crank-powered, some are mainly electrical, and others use batteries when power is out.
Moreover, the weather radio's night vision feature lets you see it even in the dark.
This is useful for emergency actions. High-end special weather radios for rescue actions have a night vision feature.
Weather shield feature – some weather radios have rugged construction for shield protection.
A shield will protect from high and low temperatures, and the device can be waterproof.
Alert blocking will allow you to turn off the alarm system for non-life-threatening warnings.
This feature allows you to filter what your radio will receive and what will not.
Newer weather radio receivers include visual alerting elements like multicolored LED indicator lights that will allow you to use external devices like pillow vibrators, strobe lights, bed shakers, loud sirens, and much more plugged into an accessory USB port to help you alert your body, disabled persons.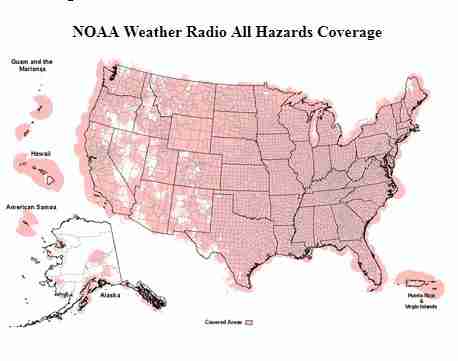 A weather alert radio band application for smart devices
For places not under unstable weather and power losses, you use weather alert radios to be informed and outdoor activities like hiking, mountain climbing, camping, etc.
If you don't depend on the power and don't use it for emergency weather alerts radio band application is the right choice.
That application for weather alert radio combined with GPS, temperature, and other functions makes your mobile device a unique outdoor gadget.
Also, weather alert radio comes in various types, like stationary desktop types or smaller portable versions and pocket sizes.
Read Next – Midland Weather Radio (Model ER210)
The Best Emergency Weather Radios | Weather Station Guide
Weather radios can have basic and extended options for professional rescue needs. Some weather radios are hand crank-powered, some are mainly electrical, and others use batteries when power is out.
Tiny handheld weather receivers do not support the same alert type encoding. Still, they will help hikers and explorers to listen to weather reports without taking a bit of radio station based on the hike.
Some weather receivers have a built-in flashlight and USB port for charging.
Depending on your needs, find the one that will fit you and have everything you need in emergency cases or some hiking adventure.
Pay attention to the battery working life and radio stations that catch.
Some radios can even send SOS to call for help or get alarmed if something happens.
Read Next – Is the weather radio AM or FM?
Midland – Why You Should Own a Weather Alert Radio
Read Next – Weather Alert Radio
Midland - WR120B/WR120EZ - NOAA Emergency Weather Alert Radio - S.A.M.E. Localized Programming, Trilingual Display, 60+ Emergency Alerts, & Alarm Clock (WR120B - Box Packaging)
8 new from $32.50
10 used from $25.00
Free shipping
as of October 3, 2023 10:41 pm
American Red Cross Emergency NOAA Weather Radio with USB Smartphone Charger, LED Flashlight & Red Beacon
40 new from $36.00
1 used from $49.99
Free shipping
as of October 3, 2023 10:41 pm
[Upgraded Version] RunningSnail Emergency Hand Crank Self Powered AM/FM NOAA Solar Weather Radio with LED Flashlight, 1000mAh Power Bank for iPhone/Smart Phone
2 used from $17.53
Free shipping
as of October 3, 2023 10:41 pm
NOAA Weather Radio - Emergency NOAA/AM/FM Battery Operated Portable Radio with Best Reception and Longest Lasting Transistor. Powered by 2 AA Battery with Mono Headphone Socket, by Vondior (Silver)
as of October 3, 2023 10:41 pm
RunningSnail Solar Crank NOAA Weather Radio for Emergency with AM/FM, Flashlight, Reading Lamp and 2000mAh Power Bank
as of October 3, 2023 10:41 pm
Eton Ultimate Camping AM/FM/NOAA Radio with S.A.M.E Technology, Smartphone Charging, Bluetooth, Giant Ambient Light and Solar Panel, NFRX5SIDEKICK
10 new from $89.00
1 used from $88.11
Free shipping
as of October 3, 2023 10:41 pm
FosPower Emergency Solar Hand Crank Portable Radio, NOAA Weather Radio for Household and Outdoor Emergency with AM/FM, LED Flashlight, Reading Lamp, 2000mAh Power Bank USB Charger and SOS Alarm
2 new from $29.99
Free shipping
as of October 3, 2023 10:41 pm
Rocam Emergency Hand Crank Portable Radio Solar Power AM/FM/SW/NOAA Weather Radio with 2000mAh Power Bank Phone Charger, 3W LED Flashlight, Reading Lamp, 7 Weather Band, SOS Alarm and Compass (Green)
as of October 3, 2023 10:41 pm
Kaito KA500 5-way Powered Solar Power,Dynamo Crank, Wind Up Emergency AM/FM/SW/NOAA Weather Alert Radio with Flashlight,Reading Lamp and Cellphone Charger, Yellow
2 new from $49.95
3 used from $29.50
Free shipping
as of October 3, 2023 10:41 pm