Crank NOAA: Living in the wrong weather location? Suffering from electricity breakdowns frequently and for a long duration?
Did you feel isolated because your smartphone, PC, laptop, and tablet all went down? What a terrible situation, I must say!
But living in the 21st century means you have a solution to every problem. No matter how huge or minor it is!
You are presenting your Emergency Crank weather radio, a product of one of the finest and most well-known manufacturing companies, RUNNINGSNAIL.
Features Emergency Crank NOAA Weather Radio Running Snail
It's perfect for any emergency. It picks up the signal in any weather condition, even in the worst situation, and broadcasts the latest weather updates about your area as an alert, such as floods, hurricanes, earthquakes, etc.
This Emergency NOAA weather radio cares about you. That is why it solves your boredom-free time during a power outage. Connect this radio to your smartphone or tablet and listen to your favorite music with decent and apparent volume.
Enjoy the company of this radio when you can't enjoy anything else—a perfect survival kit in a critical situation.
Editor's Rating:

Overview:

Dimensions: 7.4 x 3.7 x 2.7 inches

Weight: 1.17 pounds.

Battery: 2 Li-ion batteries

Power source: batteries and solar panels.
Read Next – RunningSnail NOAA Weather Radio
Battery:
Double the power capacity with its 4000mAh rechargeable battery—enough for charging your smartphones, tablets, and other gadgets.
This super-powerful battery will guarantee up to 12 hours of straight radio playtime. In addition, it charges your phone super-fast; it only takes 1 to 2 hours to charge your phone completely. With this powerful battery, you can set up your phone several times.
【2021 Newest】RunningSnail Emergency Crank Radio,4000mAh-Solar Hand Crank Portable AM/FM/NOAA Weather Radio with 1W Flashlight&Motion Sensor Reading Lamp,Cell Phone Charger, SOS for Home and Emergency
2 new from $35.90
Free shipping
as of October 4, 2023 11:06 am
Four ways to recharge:
Out of electricity and worried about how to charge your radio? You should not!
This NOAA weather emergency radio supports four charging ways: Hand Crank, Solar panel, Micro USB cable, and AAA batteries (Not included in the package).
These four alternatives help you to charge your radio via the available one at the time.
For instance, solar panels will be your power source in the daytime, and a hand crank will be your power source at night.
Read Next  – What is the best emergency radio
Flashlight:
No matter how dark your place is, this new bright light is the best companion to keep you and your family safe and secure. T
The Flashlight of NOAA weather emergency Radio will continuously support 40 hours of Flashlight. So, you don't need to collect great torches by switching among them.
With this NOAA emergency, the weather radio says bye to small LED lights.
Read Next – Midland WR400 NOAA Emergency Radio
Review:
We choose this product to add to our reviewing list because its 4000mAh powerful battery differentiates it from other weather emergency radios.
The product is good overall, but it could be perfect if it is made waterproof.
It lacks this feature, which makes its value a little bit down, but still worth the product spending money.
PROS:
CONS:
The audio quality is decent

Bright LED Flashlight.

It's not waterproof.

The SOS button is near everything and can be accidentally pressed.
Read next – Best Emergency Radio 2023
Conclusion Emergency Crank NOAA Weather Radio  Running Snail AM/FM
While packing your back for an adventurous trip, don't forget to take this along with you, as it has all you need.
Read Next – RunningSnail MD 088S Solar Emergency Radio
Emergency Crank NOAA Weather Radio Running Snail gives gathering to AM, FM, and seven NOAA stations, and the extending receiving wire keeps up with precise gathering. The implicit spotlight offers three modes: settings for far radiates, high shafts (pointing down), and the two pillars simultaneously.
There is likewise an implicit light under the sunlight-based charger, permitting clients to enlighten the room during blackouts. Again, a movement finder identifies development and illuminates the morning for 30 seconds.
Running Snail Emergency Crank NOAA Weather Radio is one of the most mind-blowing Emergency Weather Radio stations.
Along these lines, here in this article, we should find out about Emergency Crank NOAA Weather Radio Running Snail.
Read Next – Best Dynamo Emergency Radio Our Top Picks
Description:
Emergency Crank NOAA Weather Radio Running Snail has every one of the elements required for capable and smooth-out emergency readiness.
This radio offers four charging techniques: a replaceable 4000 mAh battery, a foldable crank, a USB charger, and an underlying sunlight-powered charger.
The small USB charges the battery for six hours; briefly turning the crank gives as long as 30 minutes of electric lamp time or six minutes of radio.
Emergency radios are an important contact with the world when phone lines and mobile networks are down. These events can result from severe storms, power outages, or unexpected events.
Plus, they're essential for campers and hikers, especially when mobile networks are simply out of reach. The best emergency radio will keep you in touch with civilization no matter where you are.
We'll look at a section that will come in handy when you need to keep in touch with the outside world.
Read Next – Best Crank Radio For You in 2023
Emergency Crank Noaa Weather Radio Running Snail Review:
Whether or not you want to prepare for extreme weather or are just trying to find the perfect swimming buddy, the Emergency Crank NOAA Weather Radio Running Snail is still one of the best devices you can have.
In a small and durable design, you get communication equipment, lighting sources, and a reliable battery for your additional devices. And speaking of style, this radio is genuinely orange (easy to spot in a crisis) and contains numerous charging methods: a small solar panel, a crank system, and three AAA batteries (not included with purchase). Moreover, it can be used to control USB devices (such as smartphones or game consoles) which is helpful in all circumstances.
Desk, a 1W LED Flashlight with an SOS alert with a flashing red light that can be used when you need to call for help. It picks up AM/FM radio and NOAA weather alert radio and broadcasts emergency weather alerts (such as hurricanes, tornadoes, and severe storms) to get to a particular location. It is also equipped with a flashlight.
Lastly, the radio includes a 2000mAh rechargeable battery that provides up to 12 hours of mellow time or 4-6 hours of radio.
The people who need to keep their crank radio charged and accessible will see the value in Emergency Crank NOAA Weather Radio Running Snail. This computerized radio is not difficult to tune to AM, FM, or every one of the seven NOAA stations. The thin plan fits totally on a counter or bedside table, and the morning timer capability implies it can likewise be utilized as a radio or regular clock.
This crank radio's battery charges using USB, sunlight based, or the crank, and it acknowledges AAA batteries for additional power. Charging gadgets is likewise simple with the implicit USB port. It gives a programmed alarm capability that sounds in an emergency, and the implicit three-LED spotlight can light the way to somewhere safe.
Pros:
Compact and dynamic design for an accessible location
Providing light for studying, crisis warnings, and much more
AM/FM radio, NOAA weather alarm, and other crises
2000mAh battery
Multiple Charging Methods
Tapered buttons are difficult to grab and use
Survival radio is capable of receiving all 7 NOAA weather channels.
Zoomable LED Flashlight to keep the dark at bay.
The LED "table lamp" can reassure children when the power is out.
The MD-090 and your mobile devices never died.
Waterproof, according to IPX3, means that it fears neither rain nor snow.
Cons:
Solar panels require a lot of direct sunlight. Unlikely in a weather emergency.
Reliable and robust, although it looks a bit cheap.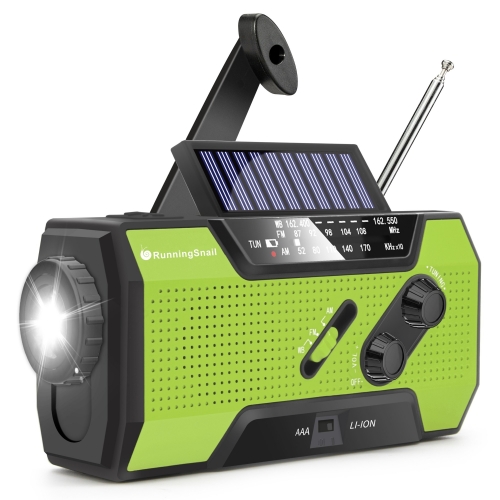 The Best Emergency Weather Radio
Weather extremes are more frequent, and using the smartphone to receive updates is impossible when the device doesn't work.
The radio is essential in an emergency and is handy in providing reliable, weather-resistant electrical, lighting, music, and news for everyday outdoor activities.
Our experts are confident the Midland ER310 emergency radio has the most efficient emergency radio in its class and can meet any emergency.
Eton Hand Turbine
Why would someone buy an LED bulb for an Eton hand turbine with an impressive and relatively compact size?
This Flashlight uses three bulbs instead of the typical one bulb typical of radios, so you can be confident you won't be concerned about any bulb dying.
The hands-driven crank is relatively long compared to other models and significantly increases the cranking leverage.
It includes the headphone jack, which allows silent listening of Radio and Weather while conserving power.
Eton American Red Cross Weather Radio
GETTING SET UP AAUXILIES. Radio signals can sometimes cause scratchy and sometimes incoherent sounds – the powerful speakers of the new generation help mitigate this frustrating problem.
In addition to its speaker, it has a headphone jack that lets you listen more privately or to the radio.
Midland WR400
REASONS TO BE QUITE A NOAA scanner A.M.E. program Loud Multi-Alert Options REASONS TO REMOVE Pricey Limited Power Source When it comes to indoor weather radios, the choice is difficult to beat the NOAA.
Weather alert technology will scan every NOAA frequency until it finds the strongest signal. WR400s are also able to scan specific area message encoding frequencies.
It cycles through the NOAA signaling system to warn users if the county where you set the alert is threatened.
Read Next – Best Emergency Radio Hand Crank Solar For You in 2023
Givoust Emergency Weather Crank
Why is this an extremely high-end gizmo flashlight if you have a small or large screen? It was easy for us to outshine LED bulbs in this model.
The display on phone's display is a very high-resolution LCD. It has a USB input and output port. However, there are auxiliary inputs as well as an auxiliary cable.
Buying Options
The Midland ER310 is the most reliable emergency weather radio as it has more reception and bright lights and has more efficient charging options than most of our tests have.
This device can also receive NOAA extreme weather alerts, which provide notifications loud enough for you to see without missing any warnings.
The ER310 is easy to carry and can be retrieved easily in an emergency.
Read Next – Top 5 Best Noaa Weather Radio 
How we tested
We received the radio, recharged the batteries, and inspected the features before bringing it into the basement of Boston so that we could still pick radio signals for NOAA and other local AM /FM radio stations.
We placed all the radios on the same radio stations and pumped them to their maximum loudness, measuring the decibel outputs of the different models in the app.
Did we know other listeners would readily understand this broadcast's voice? How does this work?
Read Next – Best Emergency Hand Crank Radio 
Also great
The Midland WR400 is ideal for preparing for inclement weather and will help protect your house from storms and other weather conditions at any given moment.
The simple-to-use alarm clock radio also works with the Specific Area message encoder (SAME), the updated NOAA emergency signal, enabling customized alerts for your particular location.
What is the most reliable weather radio?
The Midland WR 400 is by far the most accurate forecaster on NOAA.
This can also be used for AM and FM alarms to quickly replace your current alarm clock. A large bright monitor shows time-based battery charges and the alert status.
A separate radio preset provides the user with four different radio preset settings.
Are weather radios obsolete?
Weather radios are still a significant device and, if properly utilized, can be a saving tool if weather conditions are severe for a household. What can be done if your cell phone/tablet is dead?
How can I listen to the local weather radio?
No. A Weather Radio Station broadcasts on seven frequencies in a VHF service spectrum: 162400 megahertz, 162.425 MHz, 162.450 MHz, 162.475 MHz, and 162500 MHz.
What is the best NOAA Weather Radio?
The best emergency radio of all: Midland ER310 The ER310 is a weather alert radio and not only a weather band radio, which means you can instantly get the alert from the emergency radio without logging on.
Can I listen to NOAA Weather Radio on my phone?
Using this app, you can receive an online feed from all NOAA Weather Radio stations across the United States and some from the Canadian and Tropical Radios. It allows the user to receive weather updates customized to a particular county.
Can I get NOAA Weather Radio on my iPhone?
The NOAA Weather Radio apps are compatible with iPod touch, iPad, and iPhone devices and allow users to listen to nearly 300 NOAA Weather Radio All Hazard Broadcasts.
What is a good NOAA Weather Radio?
It's a weather alert radio, not a weather band radio. This allows the ER310 to receive emergency-band alerts automatically without you registering first. It can be beneficial for storm season.
Is there an NOAA Weather Radio app?
The NOAA Weather Radio app allows users access to over 200 NOAA weather radios and other broadcasts. Get the latest forecasts and other hazards 24/7 from the National Weather Services.
Are weather radios worth it?
Weather radios can still be helpful when used correctly and will help to protect you from unforeseen weather.
Do crank radios work?
This simple cranking provides two hours of illumination for your hands. Awesome.
How do I get the weather radio?
Receive NOAA meteorological broadcasts via radio. Some communities in the United States provide weather radio via satellite television or broadcast audio channels. Consult your local retailer selling electronic products and visit the nearest National Weather Service bureau.
Should I buy an emergency radio?
This multifunctional product is a must in emergencies. Hand cranks are considered emergency equipment essentials by emergency authorities. The top emergency crank radio offers weather alerts and energy-saving power.
Are hand-crank radios any good?
Radio hands-on keeps you updated about the most traumatic events in the world. It also allows for secure communications with an authorized security officer when necessary. If you tune into NOAA weather stations, your alerts may change.
What is the best-rated weather radio?
It is the top Weather Radio from NOAA. It can also serve as an AM/FM alarm clock, making it a perfect alternative to your previous alarm clock. Large screens show battery time and current alerts. Besides four preset radios, the device can be adjusted quickly.
Verdict:
The Emergency Crank NOAA Weather Radio Running Snail is one of the best Emergency Weather Radio stations. This one is built to take whatever Mother Nature can and keep working so you can stay up to date on all information relevant to your situation and your ultimate survival.
It never pays to be unprepared for a natural disaster; with the MD-090 Emergency Radio, you never will be. It is powered by a rechargeable lithium-ion battery that can be recharged using a hand crank, solar panel, or USB cable. And if you have batteries handy, it will work with them too. You are never disconnected or in the dark from the Emergency Weather Radio station emergency radio.
The emergency radio is a bit enigmatic because it looks like a low-cost transistor radio, but it works like a high-tech 21st-century hybrid device, which is precisely what it is. The Emergency Radio is weatherproof if caught outdoors and gives you the tools you need to get to an emergency shelter, high ground, or wherever you go.
Because of its LED, the Flashlight is much more potent than its 1-watt designation suggests; it produces the effective lights of a much larger conventional flashlight. And this light is more precise and more concentrated.
The crank doesn't feel flimsy like other emergency radios, and the radio efficiently sniffs out signals, even when the weather has dropped. No home survival kit should be without this type of emergency radio.
Read Next – Top 5 Best Home Weather Stations Wireless Indoor Outdoor
RunningSnail Emergency Hand Crank AM FM NOAA Radio Review
Read Next – Weather Radio Raynic Solar Hand Crank Emergency
Emergency Crank NOAA Weather Radio