Midland WR120B: Every household should have a weather radio at the bare minimum. Weather radios are considered special radios that are equipped to receive emergency alerts for destructive weather events, natural disasters and other national emergencies like terrorist threats. You must know that alerts are broadcasted and operated by NOAA (National Oceanic and Atmospheric Administration), hence the term "NOAA weather radio".
The weather radio is essential if you want to be kept informed of potential life-threatening emergencies. Keep in mind that there are two types of broadcasts that a portable weather radio can receive – NOAA and EAS (Emergency Alert System).
Things to consider when buying Midland Weather Radio:
If you're interested in weather radios but are unsure about which models to pick, you should first consider the following: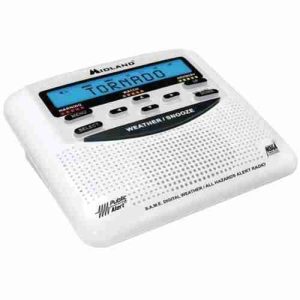 Public Alert certification: am fm weather portable radio should have Public Alert certification, which means that they meet the standards developed by NWS (National Weather Service) and NOAA.
SAME (Specific Alert Message Encoding) technology: weather broadcasts cover different regions. Having the SAME technology radio means you can program it to sound an alert for warnings in your area. This can help you screen the warnings and be prepared for it.
Midland Radios – WR120B
Of all weather radio brands, Midland is considered the gold standard. The weather alert radio reviews will also agree to this. When you buy this weather radio, the package will include the Emergency Weather Alert Radio together with the AC Power Adapter and the Owner's Manual.
In fact, the Emergency Preparedness of the Department of Homeland Security recommends the Midland WR120B. Here are the key features:
SAME digital technology: The portable weather radio boasts of SAME digital technology. You already know that having SAME technology means you can program it to sound an alert for warnings in your area. Aside from that, the Midland WR120 localised programming will alert you to more than 60 kinds of emergencies and weather hazards. It is crucial that you learn how to program your WR120.
Alert override: the Midland WR120B has this alert override feature, which will automatically switch from standby to emergency alerts.
Trilingual: you will be surprised to know that this weather radio gives alerts or warnings in three languages – English, Spanish and French. You just need to select from one.
More features: Best handheld weather radio boasts of more features like time and alarm clock. Aside from these, it has 25 programmable locations with three selectable warning systems – the 90 dB siren alarm, voice alert, and the flashing LED lights. More importantly, it can store up to ten different previously received weather alerts. It has also over sixty emergency alerts.
Verdict Midland Best Weather Radio Review
Weather radios are more valuable compared to other household equipment. With this, you need the weather radio to buy. Do not scrimp on the price. It's better to buy expensive ones with good features than waste your money on knock-offs. Compare the models first before making a decision.
Last updated on November 26, 2020 11:56 am